Quintessential LLC Is A Member of the AECOM Team, Providing Construction Management Services on the H. Carl Moultrie Courthouse C Street Addition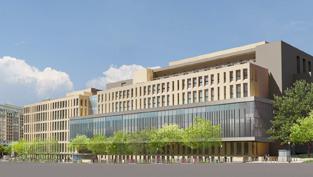 Vienna, Virginia – Quintessential Construction Managers & Consultants, LLC was awarded a contract in 2019 to provide Construction Project Management Services to the AECOM Construction Management Services Team. AECOM, was selected by the District of Columbia Courts for a multi-year contract to provide Construction Management as Agent services for the District of Columbia Superior Courts Campus in Washington, D.C.
"We were extremely excited about participating with AECOM once again, on this strategic contract award," says Quinten J. Washington, CCM, Quintessential LLC's, President & CEO.
The project involves a contemporary addition to the H. Carl Moultrie Courthouse, home of the District of Columbia Superior Court located in Judiciary Square. The addition includes six new state-of-the-art Courtrooms and Chambers for approximately 21 Judges, as well as Holding Spaces, Offices, Administrative Support Areas, Child-Care Facility, and additional Public Spaces.
The addition, which is targeted for LEED Platinum certification and is approximately 176,000 SF, was designed in collaboration between Beyer Blinder Belle and IBI Group and is part of an overall Master Plan for the DC Courts Campus, enhancing the Court's accessibility and security.
Sustainable features of the new addition include a partial Green Roof, Solar Energy and Water Capture Management systems. There will also be a lofty Atrium and glazed Courtroom windows which will allow natural light to be introduced. A Granite and Stainless-Steel Fence will enhance the approach to the new addition, while new landscape design will reinvigorate the existing façade.
Strategic Phasing will allow the Courthouse to remain fully operational throughout construction, which is being performed by Forrester Construction Company.
The AECOM team will provide design assistance and pre-construction services and full construction management consulting services including critical path method scheduling and will utilize Procore Construction Management Software for the management & control of all projects. Quintessential LLC brings their high level of expertise in the effective utilization of Procore, which has been demonstrated on other projects undertaken over the last 5-plus years. This contemporary addition to the Moultrie Courthouse revitalizes the mid-century modernist limestone building on DC's historic Judiciary Square. The project is targeted for completion in 2021/2022.
About Quintessential LLC
Quintessential Construction Managers & Consultants, LLC is a multi-disciplined, innovative, solutions-driven consulting firm, dedicated to providing competitively priced services to its Clients. Our diverse team of experts specializes in innovative solutions in direct response to our clients' needs. Established in 2006, the firm is currently positioned to provide its construction / project management knowledge and experience, which will sustain the firm's continued growth well into the future.